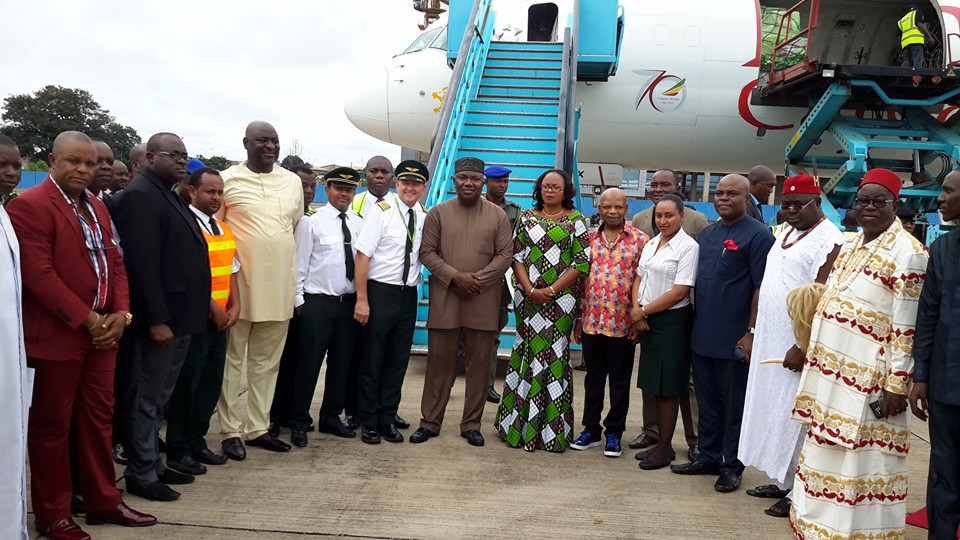 The Akanu Ibiam International Airport, Enugu, received the first cargo aircraft in the airport on Tuesday.
Speaking at the occasion, the Governor of Enugu State, Ifeanyi Ugwuanyi, commended the Federal Government for the realisation of the cargo section of the airport.
The governor, who also addressed stakeholders and the business community that witnessed the landing of the first cargo aircraft in the airport, described the occasion as significant.
He said that the landing of the cargo aircraft, a Boeing 757 operated by Ethiopian Airlines, would open up the South-East of the country to the international community.
"Three years ago, precisely on August 24, 2013, we welcomed the first ever international flight to this airport operated by Ethiopian Airlines.
Today, we have gathered to celebrate the first landing of cargo courtesy of the same airlines.
We cannot over-emphasise the tremendous socio-economic benefit that this significant milestone in the history of aviation in the state promises to bring to the region," he said.
Ugwuanyi said that the state government would take advantage of the economic benefits afforded by cargo delivery at the airport.
"Not only can our people fly to and from all parts of the world, but they can now have bulk cargo delivered to them through the airport.
It will save cost, enhance convenience in the importation of goods, create employment and help raise the profile of this airport."
We thank the Ethiopian Airlines for taking the lead to assist our people in the economic development of our region.
I urge the business moguls to take advantage of this for the benefit of all," Ugwuanyi said.
The Traffic and Sales Manager of the airlines, Biniam Addisu, said that the future of the cargo business in the airport was viable.
Addisu said that the Ethiopian Airlines needed more support from the Federal Government to realise its plans for the country.
"We have been working for the past three years to operate cargo in this airport and there were some issues we had to address. We are working with the stakeholders and government. We are succeeding and the future will be very nice and the prospect viable, but we need more support from the Nigerian government," he said.
Addisu also appealed to the Federal Government to upgrade the facilities at the cargo terminal to meet international standards.
Speaking in an interview with the News Agency of Nigeria (NAN), the lead pilot of the aircraft, Capt. William Williams, said that the flight was hitch-free, adding that the terminal ground was smooth and beautiful.